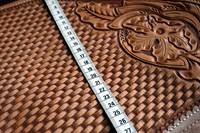 The Size of your Barefoot saddle depends mostly on the rider's physique. Most manufacturers of saddles use just the weight of the rider to evaluate the right size, however we find this to be somewhat imprecise, because after all, a person who is 1.80 m tall and weighs 55 kg has a completely different "impact" on the saddle than a person with the same weight who is just 1.60 m tall. Therefore we recommend saddle sizes according to clothing sizes.
We suggest the following:
Size 0: Youth and petite adults up to size 36 (Can⁄US size 6)
Size 1: Ladies size 36 – 38/40 (Can/US size 6 – 8⁄10); Men′s size 44/46 – 48/50
Size 2: Ladies size 40 – 46 (Can⁄US 10 – 16); Men′s size 48 – 54
For the saddle Nevada:
This model is offered in one size only to fit Ladies size 36 – 44 (Can⁄US 6 – 14) and Men's 46 – 56
If in doubt:
choose the larger size. It is important that the rider is placed correctly in the saddle in order to feel comfortable and to avoid bridging of the saddle.
The Barefoot places the rider perfectly over the center of gravity of the horse. There is no rigid tree to restrict any movement, therefore the overall length of the saddle is not that important – quite contrary to a conventional, treed saddle.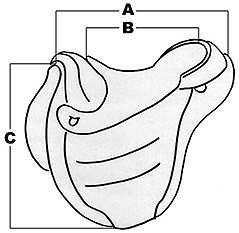 A = Length of Saddle
B = Length of Seat
C = Length of flap
Barefoot saddles are handmade and each saddle is unique. All measurements are estimates with minor differences possible. Please note: The length of saddle (A) is the overall length. Since there is no pressure at all in the rear part, the horse can move freely. Even if the saddle looks a little too long on your horse, choose the size according to your measurements. It is very important that the saddle fits the rider well, so he or she has enough space between the thighs and pommel, and there is no weight on either pommel or cantle. This would dramatically limit the saddle's ability to flex and conform! The horse's back is free of any pressure at the rear – the Barefoot can even be lifted slightly at the cantle with a rider on top.
| | | | | | |
| --- | --- | --- | --- | --- | --- |
| Saddle Model | A in cm | B in cm | C in cm | Sugg. Ladies Pant Size | Sugg. Men's Pant Size |
| Arizona 0 | 53 | 30 | 37 | 32-34/36 | 44 |
| Arizona 1 | 58 | 35 | 38 | 36-40 | 44-48 |
| Arizona 2 | 61 | 40 | 37 | 42-46 | 50-54 |
| Atlanta 1 | 58 | 35 | 36 | 36-40 | 44-48 |
| Atlanta 2 | 61 | 40 | 38 | 42-46 | 50-54 |
| Barrydale 1 | 51 | 34 | 55 | 36-40 | 44-48 |
| Barrydale 2 | 56 | 39 | 57 | 42-46 | 50-54 |
| Cherokee 1 | 49 | 35 | 53 | 36-40 | 44-48 |
| Cherokee 2 | 56 | 40 | 55 | 42-46 | 50-54 |
| Cheyenne X0 | 42 | 28 | 37 | 104-140 | 104-140 |
| Cheyenne 0 | 48 | 32 | 45 | 32-34/36 | 44-46 |
| Cheyenne 1 | 52 | 36 | 50 | 36-40 | 46-48 |
| Cheyenne 2 | 58 | 40 | 51 | 42-46 | 50-54 |
| Lexington 0 | xx | xx | xx | 32-34/36 | 44-46 |
| Lexington short 1 | 51 | 35 | 53 | 36-40 | 46-48 |
| Lexington short 2 | 56 | 39 | 55 | 42-46 | 50-54 |
| Lexington long 1 | 51 | 35 | 57 | 36-40 | 46-48 |
| Lexington long 2 | 56 | 39 | 59 | 42-46 | 50-54 |
| London 0 | 45 | 30 | 51 | 32-34/36 | 44-46 |
| London 1 | 50 | 34 | 55 | 36-40 | 46-48 |
| London 2 | 55 | 39 | 57 | 42-46 | 50-54 |
| Missoula/ Virginia 1 | 59 | 38 | 34 | 36-40 | 44-48 |
| Missoula/ Virginia 2 | 65 | 43 | 36 | 42-48 | 50-56 |
| Nevada | 57 | 35 | 46 | 36-44 | 44-52 |
| Sevilla 1 | 52 | 34 | 42 | 36-40 | 44-48 |
| Sevilla 2 | 58 | 39 | 49 | 42-46/48 | 50-56 |