C$ 619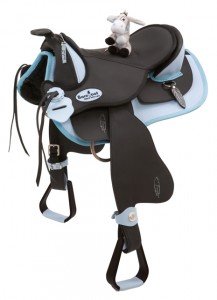 Cute Barefoot® children's Westernsaddle made from water-repellent DryTex™ material with a smooth finish. Easy care – just wipe clean.
The panel system to the right and left of the spine offers protection for the horses back.
The saddle places the rider safely and offers a snug seat, and beginners can safely hold on to the saddle horn.
All movements of the horse can be felt much more – the child learns to adapt and develop an independent seat faster than in a traditional saddle.
Matching fleece lining, 6 D-rings to attach saddle blanket or saddle bags. Comes complete with DryTex™ Western fenders and matching stirrups, and includes tie strap and off billet (nylon). Girth requirements: Western Cinch.
Weight: approximately 4 kg (8.5 lbs)
Available in Black/blue (AR-DT-BELLIS)
Special order item – please check for availability!