C$ 484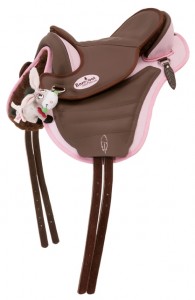 Cute pony saddles for children made from easy care, water repellent DryTex™ material with smooth surface, dense fleece underneath, and our special panel system inside the saddle to protect your pony's spine. This saddle sits snug on the pony and provides a secure seat for children. Young riders can also hold on to the raised front pommel for extra security. As all Barefoot saddles allow riders to feel the horse's movement much more, learning an independent seat and adapting to the horse's gait becomes much easier and happens faster.
6 D-rings provide attachments for saddle pads or saddle bags. The seat is removable. As with all Barefoot saddles, the pommel/fork can be interchanged with our soft insert.
Each saddle comes complete with matching plush toy donkey; the brown-pink saddle is joined by the little Lady Lily; the black-blue saddle comes with the Cheeky Bellis.
Can be fitted with narrow, short DryTex™ English stirrup leathers. Girth requirements: English girth.
Weight: approximately 3 kg (6.5 lbs)
Available in Brown/Pink (CH-DT-LILY); Black/blue (CH-DT-BELLIS)
NEW: ALSO available in solid black or brown!