C$ 1009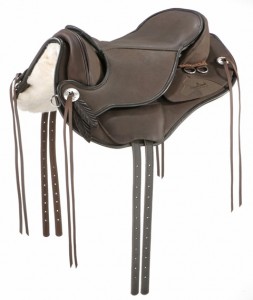 The lightest of our leather models, the Atlanta is ideal for hacking or endurance riding – you can ride for miles and always feel comfortable. It is designed with a short, rounded skirt (similar shaped to the Arizona but with an even more shortened skirt) to fit short-backed horses, and with extra room to accommodate for high withers. Made from sturdy 2-tone-brown, soft, open pored Nubuck leather it moulds to the horse's back offering ultimate freedom of movement for the horse and comfort for the rider.
The saddle is easy to care for due to it's dirt-repellent top coated leather and it comes with dense, fleece underneath. 8 D-rings, leather conchas and tie strings provide attachments for saddle pads or saddle bags. The seat is removable. As with all Barefoot saddles the
pommel/fork (comes with a size medium) is interchangeable.
Note: The horn (optional) is for decorative purposes only and therefore not recommended for roping!
Can be fitted with wide or narrow English stirrup leathers or Western fenders.
Girth requirements: Englisch/dressage. Weight: approximately 4.5 kg (10 lbs)
Available: Brown (ATL-02)
Special Order

: Black (ATL-01)