Cheyenne – Leather
C$ 889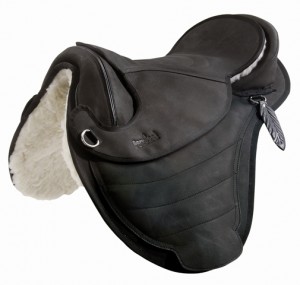 This all-purpose saddle is most popular among riders who prefer to sit freely without the rider's leg placed into position by knee rolls. Anatomically shaped saddle with excellent wither clearance and close contact position directly over the horse's center of gravity. Made of open-pored, pliable Nubuck leather with soft, off-white fleece underneath. The leather is hard wearing and easy to maintain due to a dirt-repellent top coat.
The Cheyenne saddle has a high cantle made of a semi-elastic material to eliminate any pressure points in the horse's low back, which in return enhances the horse's freedom of movement and encourages engagement of the hindquarters and vertical flexion of the back. For the rider this offers a deep, softly cushioned and secure seat. 6 D-rings provide attachments for saddle pads or saddle bags. The seat is removable. As with all Barefoot saddles the pommel (comes with a size medium) is interchangeable.
Can be fitted with narrow Barefoot fenders or English style stirrup leathers.
Weight: approximately 5 kg (11 lbs)
Available: Black (CH-01), Brown (CH-02)
Cheyenne, Dry-Tex™
C$ 589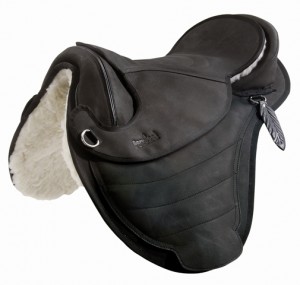 This all-purpose saddle is our most economical model available. It is identical to the Cheyenne Leather model in shape and qualities, except for its surface which is made out of a water repellent textile material with a smooth leather like surface that can be cleaned with just water. It is even lighter than our leather model.
All Dry-Tex™ saddles have matching dense fleece underneath. Stirrup leathers are available separately. We recommend the matching DryTex™ ones as the sharp-edged leather could damage the material.
Can be fitted with narrow Barefoot fenders or English style stirrup leathers.
Weight: approximately 4 kg (9 lbs)
Available: Black (CH-DT-01), Brown (CH-DT-02)
| | | | |
| --- | --- | --- | --- |
| | | | |
| | | CHEYENNE DryTex brown | |