C$ 589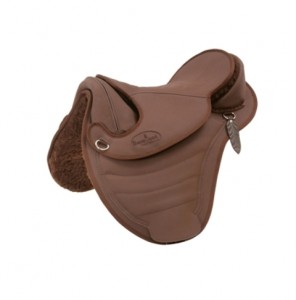 Our favorite all-purpose saddle made of Dry-Tex™, a water repellent faux leather with a smooth, slightly grained surface that can be cleaned with a just a wet sponge. This model is most popular amongst riders who prefer to sit freely without the rider's leg placed into position by knee rolls.  The saddle adjusts to the horse's back and the rider's leg can swing freely; there is no restriction of  a knee flap. Anatomically shaped saddle with excellent wither clearance and close contact position directly over the horse's centre of gravity. It is even lighter than our leather model.
All Dry-Tex™ saddles have matching dense fleece underneath. Stirrup leathers are available separately. We recommend the matching DryTex™ ones as the sharp edged leather could damage the material.
Can be fitted with narrow Barefoot fenders or English style stirrup leathers.
Weight: approximately 4 kg (9 lbs)
Available: Black (CH-DT-01), Brown (CH-DT-02)