C$ 669 Now on Sale for C$ 649, plus get Leathers & matching Bridle for FREE
SOLD!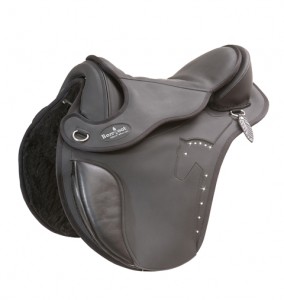 Looking for something different? This crystal studded special edition model is for the young rider who likes to have something unique. Twenty two genuine Swarowski crystals are embedded around the embossed horse heads on both sides of the saddle made of Dry-Tex™, a water repellent faux leather with a smooth, slightly grained surface that can be cleaned with a just a wet sponge.
Anatomically shaped saddle with excellent wither clearance and close contact position this saddle offers padded knee support and adjustable knee rolls that can be positioned according to the rider's needs. All Dry-Tex™ saddles have matching dense fleece underneath. 6 D-rings provide attachment for saddle pad or saddle bags. The fiberglass pommel (comes with a size medium) is interchangeable. Spare crystals are enclosed.
Weight: approximately 3 kg (6.6 lbs)
Available Sizes: 0
Pad for sizes X0 and 0 = Special Pad Cheyenne Pony
Available: Black (CKE-DT-STELLA)