Lexington
C$ 1099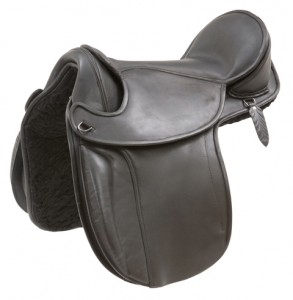 Exclusive and innovative saddle in the classical dressage design. Anatomically cut in soft Nubuck leather from Brazilian buffalos, offering ultimate freedom of movement for the horse and comfort for the rider. Stirrup positions can be adjusted to personal needs and measurements, plus flexible V-rigging, wedge shaped bolster underneath the seat, and adjustable knee rolls.
The Lexington is equipped with a wedge-shaped VPS padding, raising the seat in the rear and enabling a straight position for the rider, which is further supported by the distinct knee roll. The rigging is flexible and runs in a V-shape to allow the saddle to be cinched straight, even in the most difficult to adjust girthing area.
Compared to standard dressage saddles, the Lexington is placed further to the front, positioning the rider directly above the horse's centre of gravity and making it easier for the horse to balance the rider's weight.
Thanks to the long and slightly wider flap with padded knee rolls, the rider's leg is securely positioned in a dressage seat. Underneath this support, additional knee rolls – included in two different sizes – can be fastened with Velcro and positioned as desired. Furthermore, the knee roll support is equipped with AirPumpSystem – air can circulate allowing the knee roll to conform to the rider's leg even more.
The Lexington provides excellent support also for hacking and the 6 D-ring attachments allow for attachment of saddle pads or saddle bags. The seat is removable. As with all Barefoot saddles the pommel (comes with a size medium) is interchangeable.
Weight: approximately 6 kg (13 lbs)
Available: Black (LEX-01)