London
C$ 1069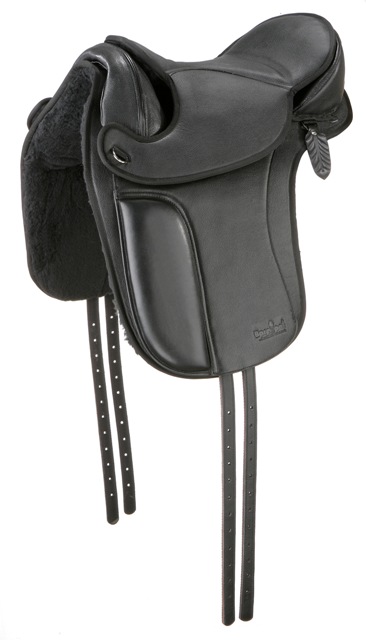 Anatomically cut dressage saddle in smooth, black leather, offering ultimate freedom of movement for the horse and comfort for the rider. The long saddle skirts with cushioned knee rolls position the rider's leg in a free and unrestricted dressage seat. With a deep seat close to the horse this saddle allows the rider to feel the muscles and movements of the horse's back helping in building the foundation for refined riding.
The soft leather has been double stitched in all hard wearing areas (saddle flaps, stirrup and rigging attachment), with black, dense fleece underneath. This saddle comes with an extra set of removable knee rolls to adjust to the rider's individual preferences.
The London has a high cantle made of a semi-elastic material to eliminate any pressure points in the horse's low back, which in return enhances the horse's freedom of movement and encourages engagement of the hindquarters and vertical flexion of the back.
Comfortable enough to be use for hacking the London provides 6 D-ring attachments for saddle pads or saddle bags. The seat is removable. As with all Barefoot saddles the pommel (comes with a size medium) is interchangeable.
Weight: approximately 5 kg (11 lbs)
Available: Black (LO-01)