Missoula Nut or Virginia Rose – Customize to suit your taste!
C$ 1874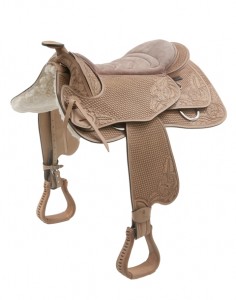 Stunning looking, authentic treeless Western saddle designed with the highest quality and comfort in mind. This close comfort saddle has hand tooling all over and is made from Brazilian harness leather which has been processed to flex with the horse's movement. The seat is made from suede goat leather that won't slip, and with dense fleece underneath. Stainless steel fittings and D-rings provide attachments for saddle pads or saddle bags, Western rigging with rear cinch. The seat is removable. As with all Barefoot saddles the pommel/fork (comes with a size wide) is interchangeable. Your choice of tooling patterns and seat color!
Like all Barefoot models this saddle comes with the specially designed, integrated VPS (vertebrae protecting system) allowing for extremely close contact and communication between the rider and the horse.
Note: The horn is for decorative purposes only and therefore not recommended for roping!
Saddle comes complete with matching fenders, nylon tie-strap and off-billet. Stirrups are available separately!
Weight: approximately 8.5 kg (19 lbs)
Available in Natural (VIRG-ROSE); Chocolate (MISU-NUT)
Special order item! (Please allow 14-16 weeks for delivery)