C$ 195.95 (pony), full size starting at 
C$ 219 (horse)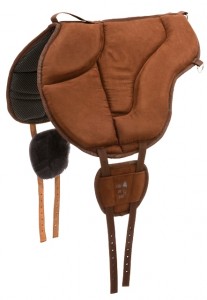 Riding without a saddle is now possible without harming your horse.
Most bareback pads can actually cause discomfort to the horse because the girth runs directly across the back and distributes all pressure onto one, maybe two spinous processes.
The Ride-On-Pad has a V-girthing which distributes the pressure along the entire pad. We deliberately decided against stirrup attachments as standing in those would lead to pressure points on the horse.
The Ride-On-Pad is padded with high density foam in alternating thicknesses and is very stable on the horse's back due to the Sympanova material on the underside. The upper side is made from microfiber which ensures good grip for the rider even at speed.
The girthing is stabilized by small pads with real sheep wool on the underside to help prevent rubbing along the horse's side (can be used without pads on smaller horses/ponies).
3 D-rings provide attachments for saddle bags, and a security handle in the front is made from sturdy nylon. Girth requirements: English girth.
Available in Black (RIDE-ON-01) or Brown (RIDE-ON-02)for
C$219
Now also available:
in square format in black with pockets (RIDE-ON-BAG) for
C$259
and PHYSIO version in black or brown (RIDE-ON-PH)
C$314