Sevilla – RWC Vaquero Style Saddle – DISCONTINUED MODEL! Please call for special pricing
C$ 1668 with Sheepskin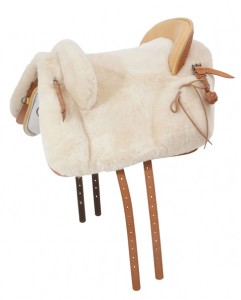 Two colored saddle made of top quality Brazilian leather.
The saddle can be used with or without the full sheepskin seat (not included).
Like all our Barefoot models, the Sevilla has no rigid tree; to generate wither clearance, wither arches made of fiberglass are situated in front of the saddle. These padded and leather covered arches come in 3 different sizes and are included.  They attach to the saddle with 2 screws and can easily be interchanged to accommodate horses with different conformations.
The saddle construction: pressure absorbing and weight distributing multi-layered VPS® system. These VPS® panels will not compress over time like traditional panels, therefore no re-stuffing is necessary. The underside is made of durable and grippy suede leather.
Leather strings, 5 D-rings, rivets, flexible gullet, Barefoot® feather, and removable, typical Vaquero saddle holder.
Saddles from our 'RWC® Riders-Who-Care' series are all developed under the same criteria; they closely resemble the traditional saddle but are structurally made as horse- friendly as possible. A saddle with normal appearance and twist will not provide quiet as much flexibility as our typical Barefoot® saddles. However, the 'RWC® Riders-Who-Care' Saddles are significantly kinder to the horses' back and more flexible than the traditional models with tree.
Authentic, Spanish design

Flexible and self adjusting

With VPS® system

Can be used with or without sheepskin seat
Can be used with narrow Western fenders or English stirrup leathers. Girth requirements: English girth.
Available in size 1, in Cognac/Almond (SE-00/03) only – 1 left!